Warehouse marking at C&A distribution centre
C&A, the fashion brand with a global presence, recently opened their brand-new distribution centre, located near Trnava, Slovakia. Thanks to its strategic location in the Central Eur ope, it will supply their branches located throughout the Central and Eastern Eur ope, in nine countries – Austria, Croatia, Czech Republic, Hungary , Poland, Romania , Serbia, Slovakia and Slovenia.
Designing the architecture and planning the structure of a warehouse area in a distribution centre are very important and key factors while implementing new technologies. One of the key factors during the warehouse area planning is, that the warehouse positions are precisely and professionally marked
The area of the C&A distribution centre is 30 000 square metres and it consist of multiple warehouse zones.
Customer's request was to propose appropriate methods of marking, that will simplify, optimise and streamline the work and orientation within the whole distribution centre.
It was required to mark:
Clothing storage positions
Pallet positions situated on the free ground area
Pallet positions placed on racks
Item positions on shelves
Item positions for the conveyor buffers
In all the cases above , we used labels made from high quality and resistant materials, including the unique Datamatrix code. More than 49 000 positions have been marked.
This ensured the long-term resistance of the marking as well as very easy and precise scanning of the position labels .
Clothing storage positions
Requirement
Clothes stored on the hangers
Marking using plastic label holders
More than 34 000 positions marked
Solution
Production of the plastic hangers from special "PPH Scolefin" material that contains 20% of the fiberglass to prevent deformation and ensure stability in various conditions
Installation took 5 days
Pallet positions situated on the free ground area
Requirement
Free ground lying pallet positions
Ceiling height 4 metres, maximum height was 12 metres
More than 3 500 positions marked
Solution
Special hanging rail system for easy mounting, without the need to drill into the ceiling
Easy to adjust positions whenever needed
More than 1,8 kilometres of rail system was installed
Installation took 8 days
Pallet positions placed on racks
Requirement
Three-level pallet racks
More than 4 200 positions
Solution
Special color-coded multilevel labels for easy orientation
All positions can be scanned from the ground
Installation took 1 day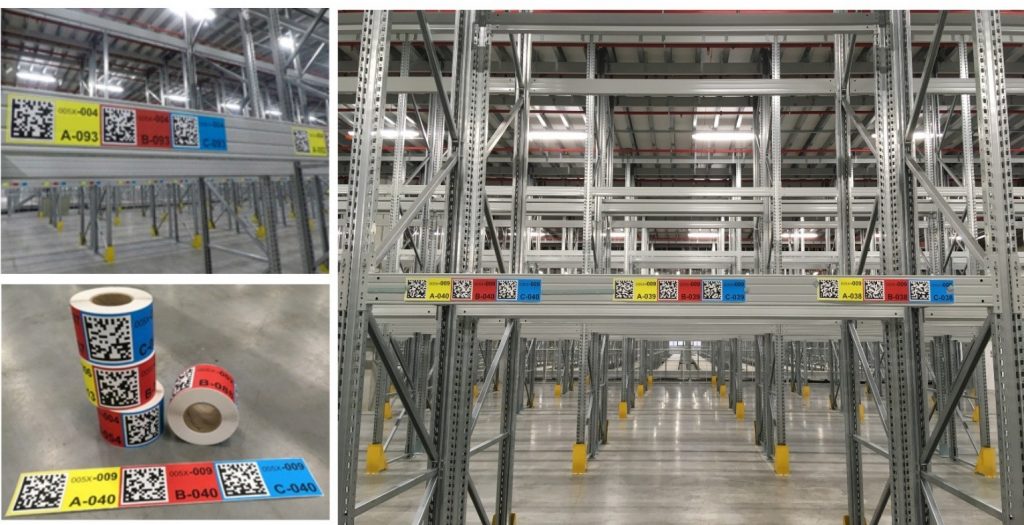 Item positions on shelves
Requirement
Positions had to be variable for ability to move them as needed
More than 7 000 positions
Solution
Special durable labels with magnetic surface for easy and fast manipulation
Installation took 1 day
Item positions for the conveyor buffers
Requirement
Marking of buffers for automatic conveyor line
More than 500 positions
Solution
Special PVC KomaTEX signs with 5 mm thickness,
Installation took 1 day